Roll over image to zoom in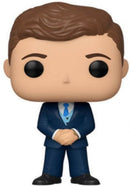 The all new POTUS Pop! Vinyl's are here! John F. Kennedy is here to join your collection!
There are risks and costs to action. But they are far less than the long-range risks of comfortable inaction.
- John F. Kennedy
Born in Brookline, Massachusetts during May of 1917, John Fitzgerald Kennedy was one of nine children and the grandson of then Boston Mayor John Francis Fitzgerald.
Payment & Security