Roll over image to zoom in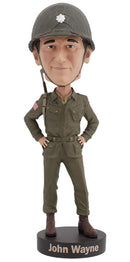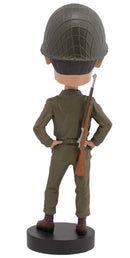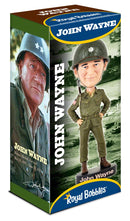 JOHN WAYNE WWII BOBBLEHEAD: John Wayne was born Marion Robert Morrison in Winterset, IA, in 1907. John Wayne's monumental film career spanned five decades. He appeared in more than 175 films. This remarkable bobblehead celebrates his many heroic roles in World War II films, and recognized the "Greatest Generation".

POP CULTURE COLLECTIBLES: Royal Bobbles features several different product lines of famous icons, including entertainers, artists, singers, and historic/political figures. Perfect for collectors of every genre, these bobbleheads make great gifts for everyone! Each figure features a hologram with a unique serial number on the bottom of the base to indicate authenticity.

UNIQUE, COLLECTIBLE BOBBLEHEADS: Each Royal Bobbles premium-quality bobblehead comes in a colorful, printed collector's box with a custom-cut Styrofoam inner protection. All Royal Bobbles bobbleheads are made from high-quality, heavyweight polyresin, stand at over 8" tall, and are individually hand painted.
Payment & Security