Roll over image to zoom in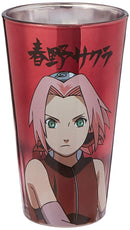 Have a drink with Sakura! This Naruto Shippuden Sakura Shiny Pint Glass features an image of the girl / anti-hero character, with a cool shiny red background. Fans of Naruto Shippuden would love it! Measures 5 3/4-inches tall and holds 16-ounces of liquid. Ages 13 and up. A pint glass is a form of drinkware made to hold either a British ("imperial") pint of 20 imperial fluid ounces (568 ml) or an American pint of 16 US fluid ounces (473 ml). These glasses are typically used to serve beer, and also often for cider. Pint glasses became popular in the United Kingdom in the early/mid-20th century, replacing tankards (pewter, ceramic, and glass). This change is notably lamented by George Orwell in his 1946 essay "The Moon Under Water".
FAST DELIVERY: Arrives in 1-3 Days. RUSH SERVICE AVAILABLE. CONTACT US IMMEDIATELY. AVAILABLE 24HRS.
NOT dishwasher or microwave safe:  This is a PREMIUM drinking glass with HIGH-QUALITY artwork and is meant for GENTLE HAND WASHING
PERFECT GIFT: Join the community of fans who love the franchise with your very own PREMIUM pint glass and the BEST artwork you'll find!
COLLECTORS ITEM: Regarded as one of the most popular and successful franchises in the market, we have used the HIGHEST QUALITY materials to commemorate it
CONVERSATION STARTER: Whether you keep it at home or elsewhere, this pint glass will sure catch eyes wherever you are! Just watch out for envious monsters!
Payment & Security