Roll over image to zoom in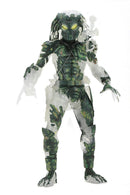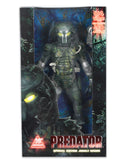 This massive, limited edition action figure marks the 30th anniversary of the original Predator movie!
The stealthy Jungle Demon Predator is cast in clear plastic with camouflage accents to capture his cloaked appearance in the jungle. We've even equipped him with LED effects to simulate the yellow glowing eyes and phasing effect seen on screen! The figure also features red LED lights in the mask's targeting system and in the wrist computer, which flips open.
The Jungle Demon stands an impressive 20″ tall and is fully poseable, with retractable wrist blades and articulated shoulder cannon. It comes with removable backpack accessory and is packaged in collector-friendly 30th anniversary window box packaging with foil accents. Uses button cell batteries, included.
Payment & Security