Competing projects with more than passing similarities happen all the time. It was that way with Armageddon and Deep Impact, or Volcano and Dante's Peak. And now, two streaming services have similar television projects hitting at the same time — dysfunctional superhero family projects, to be exact. DC Universe has the weird heroic zeroes of Doom Patrol and Netflix has the flawed family dynamics of The Umbrella Academy. Both are worth checking out, as they each deliver a fun take on tales of broken outcasts compelled to do good by virtue of their extraordinary abilities, but it's the latter, with its Succession-meets-The-X-Men sensibilities and Royal Tenenbaums-like construction that is ultimately the more all-around enjoyably weird, giddily crafted, and memorable superhero series.

Adapted from the Dark Horse comic of the same name from Gerard Way and Gabriel Bá, The Umbrella Academy was developed for television by Steve Blackman (Legion, Altered Carbon) and FOX's The Exorcist TV series creator Jeremy Slater. The result is an energetically weird series, one where the weirder it gets the more engaging it becomes. That's mainly due to how the weirdness is in every atom of its being, from its disbanded and dysfunctional family of domino mask-wearing do-gooders to its increasingly bizarre storyline — a mystery about the encroaching end of the world. Yet the enigma of the end of days is only a portion of what The Umbrella Academy ultimately has on tap, as the series gleefully observes such genre staples as vigilantism, time travel, necromancy, and more, wrapping each up in a soiled cloth of familial angst. Oh, the series also has an anthropomorphized chimpanzee named Pogo and a malfunctioning robot matriarch, in case you thought it couldn't get any more eccentric.
It's those eccentricities that make the series so appealing at first glance, but The Umbrella Academy doesn't overplay its hand. Instead, the series leans into its unconventionality with a narrative that neither tries to explain nor justify itself — it simply just is. That kind of confidence is an appreciable abnormality in its own right, particularly with a piece of IP that's as relatively new and untested as this one. It begins with an outlandish conceit: one day, 43 women around the world found themselves suddenly in labor, where moments before they had not even been pregnant. An eccentric billionaire by the name of Sir Reginald Hargreeves (Colm Feore) went about attempting to adopt (really it was more like purchase) these abnormalities and ended up with seven of them. And with his seven children, whom he referred to by number, in the order in which they were acquired, Hargreeves formed a superhero outfit called The Umbrella Academy.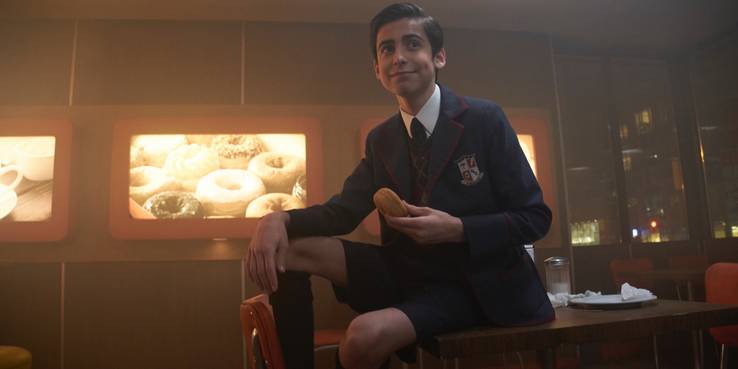 Though the de facto family, comprised of Luther/Number 1 (Tom Hopper), Diego/Number 2 (David Casteñeda), Allison/Number 3 (Emmy Raver-Lampman), Klaus/Number 4 (Robert Sheehan), Number Five (Aidan Gallagher), Number 6, and Vanya/Number 7 (Ellen Page), had their day in the sun several years ago, they're something of a semi-forgotten pop culture relic when the series picks up. Number 5 has been missing for years, one member of the team is dead, and Vanya has been ostensibly ostracized for writing a tell-all about the family years before Sir Hargreeves's death, which acts as the catalyst for bringing what's left of the family back together.

With its mystery of the apocalypse, questions surrounding Sir Hargreeves's passing, the unresolved conflicts between siblings and parents alike, plus a pair of ultra-violent assassins played by Mary J. Blige and Cameron Britton (Mindhunter), the series has an inordinate amount of story to tell. That helps make the 10-episode run more justifiable, as The Umbrella Academy, for the most part, avoids the pitfalls of so many Netflix — and other streaming service shows — by not falling into a listless standstill midway through the season.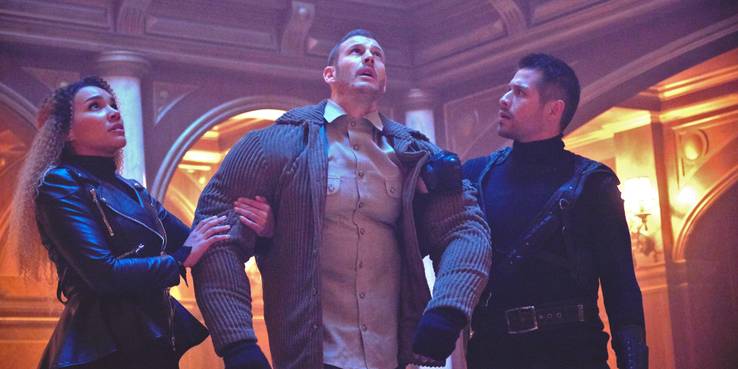 Part of that is due to the sheer number of individual storylines it has to juggle, and part of its is due to the structure of the series itself. Like last year's The Haunting of Hill House, The Umbrella Academy utilizes dual past and present narratives about a fractured family to great effect. It also doesn't hurt that each episode makes a point to feature at least one infectiously exuberant action sequence set to a pop song — a tool that winds up giving the series one of the best soundtracks on television in a long time.

In as much as it sounds like a blockbuster, The Umbrella Academy looks the part, too. Pogo, a CGI creation, is every bit as convincing and emotive as the intelligent primates from the recent Planet of the Apes trilogy. Add to that the show's fantastical, slightly askew world that at times looks as though pages from the comic book have literally sprung to life, and the manner in which the show brings its characters' unusual and original powers to the screen, and what's left is a thoroughly original new offering that's fit to binge. Most of all, though, despite its dense narrative, multiple character arcs, and twisty structure with a world-ending mystery at its center, The Umbrella Academy never forgets that it's here to have fun. It's that last part that will likely prove to be most important in the long run. Viewers have plenty of options when it comes to their superhero TV shows and movies, but this particular super-weird superhero showdown that The Umbrella Academy finds itself involved in just might be won by virtue of the Netflix series' willingness to out-weird the competition and have fun doing it.
BY KEVIN YEOMAN
Source: https://screenrant.com/the-umbrella-academy-review-netflix-ellen-page-gerard-way/